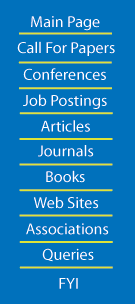 Issue-24, March 8, 2006
From the Editor
Ranking journals and departments is still an ongoing problem for European economists—I say this because I have been told by some that the problem is a non-problem and papers on issues of ranking should not really be published. In Greece, higher education is about to officially initiate research assessments and to play the journal ranking game. This will put into practice a relevant law passed a few months ago in Greece in compliance with a European Union directive regarding the evaluation of higher education. Dr. Andriana Vlachou and others are trying to do something to resist the implementation of the law or at least some of its devastating implications. If you have papers and other documents that address the issue of ranking and how to deal with its implications, please send then to Dr. Vlachou—her e-mail address is Vlachou@aueb.gr.

In the newsletter there are more call for papers and of particular note the call for papers from AFEE, IAFFE, ASE, and URPE for the 2007 ASSA in Chicago have now been listed in the Newsletter. In addition, there are a jobs posting, and notices for ROPE, David Colander's Economics, and Ray Canterbury's book on Alan Greenspan. Moreover, a new section has been introduced that deals with heterodox economics archive material which you might find interesting. Finally, under FYI you will find an article on the teaching of economics at Columbia University which you may find quite interesting.
Fred Lee
In this issue:
- European Association for Evolutionary Political Economy, EAEPE
- Union of Radical Political Economists
- The History of Capitalism in North America
- 2006 Society for the Development of Austrian Economics Sessions
- Japan Academy for Asian Market Economies (JAFAME)
- 2007 World Congress, University of Amsterdam
- Another World is Necessary: Justice, Sustainable Development & Sovereignty


- Conferences, Seminars and Lectures
- Future of Europe: "Euroland - Global Player or Global Drag?"
- Economics in the Postwar Period
- Labour Internationalism
- Production and Consumption
- Value Theory and Knowledge Based Economy Workshops
- History of Strikes, Lock-Outs & General Strikes
- Economic Institutions Under the Many Forms of Capitalism
- Keynesian Policies on Welfare- Past and Present
- Histories of the 8 Hour Day and Working Life-Working to Live
- Eighth International Workshop on Institutional Economics
- Job Postings for Heterodox Economists
- Brighton Business School

- Heterodox Journals and Newsletters
- Review of Political Economy
- European Journal of the History of Economic Thought
- Economic Sociology - the European Electronic Newsletter
- The Talking Economics Bulletin

- Heterodox Books and Book Series
- Colander's Economics
- Alan Greenspan: The Oracle Behind the Curtain
- Heterodox Graduate Program and PhD Scholarships

- New MA at Tallinn University of Technology
- Annual Student Contest for Canadian Students around the World and For Students in Canada
- Heterodox Economics Archive Material
- Real-World Economics Teach-In March 20, 1996, University of Victoria, Canada
- 2006 Workers' Rights
- Metaphysics of McCarthyism
European Association for Evolutionary Political Economy, EAEPE

18th Conference – Istanbul, Turkey, November, 2-4, 2006

Research Area C – Institutional Change
Special session on "Development and institutional change"

The general theme of the EAEPE conference in Istanbul is "Developing Economies: Multiple Trajectories, Multiple Developments". The topic of this special session focuses on a specific aspect of this theme, i.e. the relation between development and institutional change.
Although most heterodox economists acknowledge that development implies institutional change a key question is what kind of change is involved and how it should be assessed. Three approaches may be envisaged. The first one focuses on development in terms of economic performance in a market economy, measured by indicators such as allocative efficiency, dynamic efficiency, growth, etc.. Social justice is taken into account, here, either as a constraint determined by social and political circumstances or because it is functional to development, i.e. it establishes or reinforces social cohesion. Insofar as this interdependence between social justice and economic performance is community-specific, it is likely to determine distinct institutional setups and distinct patterns of economic evolution. This suggests that the institutional change required to achieve a given market performance is, at least to some extent, dependent on local specificities: how important these specificities are remains open to debate.
The second approach switches the relation between social justice and economic performance by arguing that efficiency is pursued according to a specific legal-economic nexus – involving, inter alia, the assignment of property rights and entitlements. Since the nexus is the outcome of historically determined social and political truces, this view reinforces the idea that different patterns of development are possible. However, while the first approach contends that the market provides a benchmark for institutional change, this one suggests that change in the institutions underlying a given nexus depends on power relations, both domestic and international. Whether any distribution is possible, independently of market and power constraints is an open issue.
The above approaches view social justice in distributive terms. The third one extends the notion of social justice to the quality of life, i.e. to a concept that goes beyond money (income and wealth) distribution, involving a social accounting that transcends the market's relative prices, economic relations based on reciprocity and care rather than on the mere exchange of commodities, and freedom to choose how to conduct one's life. You might wish to add "empowerment" or the "capabilities" approach (A. Sen) Basically, what this approach suggests is that development consists in achieving the conditions whereby the members of a community jointly choose what ends must be pursued. Thus two types of institutional changes may be identified: those what the community identifies as functional to its ends; those that determine the conditions whereby the community formulates its choices. Participatory democracy as a search process, rather than a mere reflection of preferences, emerges as a key issue. Despite its conceptual clarity, institutional change is difficult to assess, here, owing to the variety of its qualitative, as well as quantitative, features.
This sketchy outline suggests that theoretical research is important to clarify the value judgements underlying each approach and to understand the relations among them, possibly qualifying the outline itself. Applied research may provide insights on the relevance of the issues that each approach puts forward and on the problems that policies based on these approaches lead to.

Participants may submit papers that relate:
- to the general topic of institutional change (please indicate: Research Area C)
- to the above call for papers (please indicate: Research Area C - Call for papers)
Paper proposals (600-1000 words) must be uploaded to: www.eaepe.org (conferences - abstracts) by 30 April 2006 and sent to both Paolo Ramazzotti (ramazzotti@unimc.it ) and Wolfram Elsner (welsner@uni-bremen.de ) who will care to forward them to the conference organisers.

For further information on this call for papers contact Wolfram Elsner or Paolo Ramazzotti at the above e-mail addresses . See www.eaepe.org for general information concerning the conference.
Union of Radical Political Economists

Annual Meeting- Chicago January 5-7, 2007

URPE invites proposals for individual papers and complete sessions for the URPE at ASSA annual meeting. URPE welcomes proposals on radical political economic theory and applied analysis from a wide variety of theoretical traditions.

The deadline for proposed papers and sessions is May 1, 2006.

Proposals for complete sessions should include the session title, a brief description of each paper, and the names, institutional affiliations, and email addresses of the chair, discussants, and presenters. Proposals for sessions should contain four papers. If you are proposing a complete session, please arrange to have discussants for your papers and a chair for your session. As the organizer of this session, you are responsible for conveying administrative information to session members, including confirmation that the session has been accepted, the time and location, and deadlines.

Proposals for individual papers should include the title, the abstract, and the author's name, institutional affiliation, and email. Individuals whose papers are accepted may also be expected to serve as a discussant for a different paper at the meetings. If you list the areas you prefer to discuss, all attempts will be made to match your preferences. Individual papers that are accepted will be assigned to sessions and each session will have an assigned organizer. It is the organizer's job to convey administrative information to session members, including confirmation that the session has been accepted, the time and location, and deadlines. URPE has no paid ASSA staff, so those presenting papers must share the burden of organizing.

We regret that high quality individual papers may be turned down due to the inability to place them in a session with papers with similar themes. For this reason, we strongly encourage proposals for full sessions. The number of sessions we can accept is limited by ASSA, and we regret that high quality sessions may be turned down as well.

Please note that the date, time, and location of sessions is assigned by ASSA, not URPE. You should receive word from URPE that your paper/session was accepted by mid-June. ASSA will not assign dates and times until much later in the summer.

Please note that anyone who presents a paper (but not the chairs or discussants) must be a member of URPE (except at joint sessions with other groups, in which case they can be a member of the other organization). Contact urpe@labornet.org or 413-577-0806 for membership information. We will confirm membership for accepted proposals.

A completed copy of the Program Registration Form (below) is required with your submission. Submissions will NOT BE ACCEPTED BY EMAIL. Only applications received by the May 1 deadline will be considered.

If you have any questions, please contact one of the URPE at ASSA coordinators:

Robin Hahnel (rhahnel@starpower.net) ; American University Kristen Sheeran (kasheeran@smcm.edu) St. Mary's College of MD

For registration form: URPECall2007.doc
The History of Capitalism in North America

Graduate Student Conference at Harvard, October 27-28, 2006
Keynote speaker: Richard White (Stanford University)

This conference aims to bring together emerging scholars who see capitalism as an important category of analysis and a topic for historical inquiry in its own right. We seek papers from fellow graduate students whose work broadens our knowledge of the history of American capitalism and uses capitalism as a prism through which to understand American history as a whole.

We welcome papers that focus on a variety of topics, not just those usually associated with economic history. We are looking for submissions on subjects related (but not limited) to:
• Legal structures and the state
• The built and the natural environments
• Work and labor
• Race and slavery
• Migration and immigration
• Ideas and culture
• Gender
• Class formation
• Consumerism
• Agriculture
• Trans- and multinational corporations
• Industries and commodities
• Imperialism and colonialism
• Innovation and technology
• Business strategies

Interested graduate students should submit a C.V. and a 750-word abstract of their paper (description, significance, sources, current status) to:
History of Capitalism Conference
Charles Warren Center
4th Floor Emerson Hall
Cambridge, MA 02138

The submission deadline is April 15, 2006. For additional information, please see www.fas.harvard.edu/polecon or email polecon@fas.harvard.edu

This conference is made possible by the David S. Howe Fund for the Study of Economic and Business History, with additional support from the Charles Warren Center for Studies in American History, the Radcliffe Institute for Advanced Study, the Graduate Program in the History of American Civilization, and the Harvard History Department.
2006 Society for the Development of Austrian Economics Sessions

The Society encourages contributions from a diversity of economists, and is always especially open to good work in the history of economic thought. More information on the Society, including a membership form, can be found at http://it.stlawu.edu/sdae

Southern Economic Association Meeting Charleston, South Carolina, November 18-21, 2006 (Saturday-Tuesday)

Members interested in presenting papers, serving as chairs/discussants, or proposing entire panels should submit proposals by April 1st. All submissions must include the following information for each participant, including non-attending co-authors:

Name
Affiliation
Street address
Phone
Fax
Email address

Those proposing papers must also include a one-page abstract as well as an indication of their willingness to serve as a chair or discussant. If you just wish to serve as a chair or discussant, please indicate so in your submission. All information should be returned by April 1, 2006. If you are proposing an entire panel, please have all the contact information for all the participants when you send the materials. Also keep in mind that paid-up SDAE members are given priority for SDAE panels.

Please send your submissions to Randall Holcombe, SDAE President-elect at:
Randall Holcombe
Department of Economics
Florida State University
Tallahassee, Florida 32306
or email to: holcombe@garnet.acns.fsu.edu
Japan Academy for Asian Market Economies (JAFAME)

We are pleased to invite you to submit an abstract for the 10th JAFAME Conference, which will be held in Osaka from 15th to 16th July 2006. This Conference is scheduled to have workshops for international participants. Those scholars and researchers who are interested in Asian economies are welcome to participate in these workshops. We are expecting to have farsighted and challenging papers from all over the world. Papers from Asian countries are most welcome. Also we are expecting to have graduate students who would like to contribute their excellent papers for the presentation in these workshops. Official languages are English or Japanese.
Abstract should be written in English or Japanese, in about 300 -500 words in English or 1000 characters in Japanese. The deadline is February 28, 2006. All abstracts will undergo a competitive review. Applicants will be notified by April 30, 2006 whether their papers have been accepted for presentation. Papers presented at a workshop will be submitted for publication review.
For detailed information: JAFAME2006.doc and http://www.eco.kindai.ac.jp/onishi/index.html
2007 World Congress, University of Amsterdam

Social Values and Economic Life
Twelfth World Congress of Social Economics
University of Amsterdam
June 8-10, 2007

The Association for Social Economics has scheduled its Twelfth World Congress of Social Economics for June 8-10, 2007, at the University of Amsterdam in Amsterdam, The Netherlands. The general theme will be "Social Values and Economic Life." It is not necessary to be a member of the Association to participate in the World Congress. We hope that non- members who participate in the World Congress will be interested in joining the Association.

Social economists assume that all economic theory and policy is strongly influenced by social values, whether or not these values are explicitly articulated, thereby rejecting the notion of a value-free, positive economic science. Social economists therefore view the economy as a social, cultural, and political institution. Social economics questions mainstream economic assumptions of homo economicus, rational economic man, and recognizes the interconnectedness of people's life and work - both paid and unpaid. The Association for Social Economics ( www.socialeconomics.org ) was founded in 1970 as the successor of the Catholic Economic Association, founded in 1941. Social economists challenge the dominant paradigm of neoclassical economics, endeavor to broaden the scope and methodology of economics, encourage the pursuit of economic justice, and support research and analysis on policies to eradicate poverty, unemployment, hunger, inequality, and that promote an economy that values human beings and allows them to live with dignity.

Proposals for the World Congress may include: (1) individual or coauthored papers; (2) entire sessions of 4 papers; (3) roundtables of 4-5 persons on a particular topic; and (4) pedagogical sessions on teaching in the social economics tradition. The editors of the two journals of the Association—Review of Social Economy and Forum for Social Economics—are especially interested in papers suitable for publication. There will be no formal discussant assigned to papers/sessions. Instead, we encourage participation and discussion among the panelists and participants.

We encourage historical, theoretical, empirical, and policy papers. We are particularly interested in research that explicitly articulates a particular framework of social values. Five broad areas for exploring the theme of social values and economic life include: (1) family and community relationships; (2) the workplace and its social organization; (3) the social nature of market relationships; (4) macroeconomic social policy issues; and (5) economic methodology and the history of economic thought.

The Program Committee prefers to receive proposals by e-mail. In your proposal, include:

- Author/Panelist name(s), postal address, telephone, fax, e-mail address Paper, Panel, or Session title
- A 100 word (maximum) abstract of the Paper, Panel, or entire Session
Please send these materials, preferably by no later than January 31, 2007, to each member of the Program Committee:

Betsy Jane Clary, College of Charleston, USA - claryj@cofc.edu
John B. Davis, Marquette University and University of Amsterdam - john.davis@marquette.edu
Edith Kuiper, University of Amsterdam, The Netherlands - kuiperedith@hotmail.com
Harro Maas, University of Amsterdam, The Netherlands, h.b.j.b.maas@uva.nl
Ellen Mutari, Richard Stockton College, USA, ellen.mutari@stockton.edu
Another World is Necessary: Justice, Sustainable Development & Sovereignty

July 19-26, 2006
Center for Global Justice, San Miguel de Allende, Mexico
Costs: Registration fee: $250 includes all sessions, reception, lunches and coffee breaks. Site visits: $50 covers both. Lodging & sessions at the Hotel Real de Minas, a quiet, full service hotel 10 min from San Miguel's historic center http://www.realdeminas.com/ Single or double: 702 pesos or $68 USD per night. Check our website for options. Scholarship assistance is available for low-income participants, including travel expenses, and lodging & dinners with local friends. Full fees (and contributions) help provide scholarships for low-income participants. The registration fee is due by May 15.

We welcome tax deductible contributions to our Scholarship Fund. All checks are payable to: "Research Associates Foundation" Ctr. for Global Justice, 9902 Crystal Ct. #107, Laredo TX 78045. For credit card payment & more info: www.globaljusticecenter.org

Workshop results, including any joint conclusions, will be published in Spanish and English on our website--www.globaljusticecenter.org--and very likely also in print. The Center is devoted to research and learning for a better world.

Co-Sponsors: Radical Philosophy Association, Global Studies Association, Union of Radical Political Economists and Argentina Autonomista Project

We call on social change researchers and activists to join this 6-day workshop in seeking alternatives to corporate globalization that are just, sustainable, and respect popular sovereignty. Participants are invited to join the Center for Global Justice and share in the job of renewing its mission. All sessions will be in both English & Spanish.

"There is no alternative", (TINA) said Margaret Thatcher of neo-liberal capitalism as led by the United States at least since the 1980s. And this system's defenders still argue TINA. But this flies in the face of reality. Without waiting for governments, victims of neo-liberalism have themselves constructed many viable alternatives aiming at justice, sustainability, and popular sovereignty. And new majorities are directing governments to join this construction and the global justice movement. For another world is not only possible, it is now necessary. Amidst signs of a deep global economic crisis, the present system's environmental and social unsustainability is clear. Failure to honestly ponder options invites disaster by mindless recycling of a toxic system. Another world needs to be invented by us all - morally, economically, environmentally, politically, & culturally.

We aim for bi-lingual, publishable results of our joint work on suggested themes like:

1. Grasping the crisis: how capital pits working classes against each other; conflicting agricultural models & the rural crisis; the neo-liberal offensive today - economically, ecologically, politically; water & ecocide; new imperialism & war; recycling racism.
2. Women world-wide: women's rights; migration of women; indigenous women; reproductive rights; women's new economic activity; feminist ecology.
3. Goals & Alternatives: How is the people's resistance redefining social and global justice, autonomy, and participatory democracy? New kinds of democratic socialism including "socialism for the 21st century"; how to undo racism; gender democracy; "una vida digna." 4. Strategies & Tools: occupy, resist, produce; regional economic unity; global justice movements; solidarity economy, recuperated factories, & co-ops; can pursuit of local economic autonomy be combined with electoral action?; North-South cross-border organizing; ambiguities of new technologies; Tobin tax & international legal reform; food sovereignty; the subsistence perspective; reclaiming the commons; distinguishing means that are unjust, unsustainable, & disrespectful of peoples' sovereignty from those that are not.

We welcome individual or joint papers, performances or other creative presentations on such themes. All papers will be posted on our website so we can prepare for joint work by reading each other's work in advance. Site visits will concretize our debates.

Proposals due by April 15; full presentations in English & Spanish (over) by June 10. Proposals & queries to Beatriz SĂşcar at: conference@globaljusticecenter.org
Notification of acceptance: May 1, 2006. Final, full presentations in both Spanish and English, for mounting on our website, are due by June 10, 2006. If you cannot get your paper translated we will supply a list of translators who charge reasonable prices.

Conferences, Seminars and Lectures
Future of Europe: "Euroland - Global Player or Global Drag?"

Franklin College Switzerland, in collaboration with Banca Julius Baer (Lugano) SA and Fingroup Financial Management & Consulting SA of Lugano, is pleased to invite you to the Keynote Address on Thursday, March 2, 2006 presented by Charles Goodhart, Professor Emeritus, London School of Economics, to commence the:

Franklin Conference on the Future of Europe: "Euroland - Global Player or Global Drag?"
The Lecture will be held in the Franklin College Auditorium at 6.00 pm and will be followed by a cocktail reception at Holman Hall.
You are kindly invited to join us for this interesting presentation. For details please see the attachment.
Economics in the Postwar Period

History of Postwar Social Science Seminar
Roger Backhouse of the University of Birmingham organizes a seminar on Economics in the Postwar Period at the London School of Economics, UK on March 14, 2006.

Labour Internationalism

ESSHC Session
Labour Internationalism, a session of the European Social Science History Conference (ESSHC), will be held in Amsterdam in the Netherlands from March 22 to 25, 2006.

Production and Consumption

Social History Society Annual Conference
Production and Consumption is one of the thematic strands of the Social History Society Annual Conference, from March 31 to April 2, 2006 at Reading University, UK.

Value Theory and Knowledge Based Economy Workshops

The Lancaster Institute of Advanced Studies has forthcoming workshops on Value Theory and the Knowledge-Based Economy (KBE) in April to June 2006 as part of the Institute's inaugural Annual Programme on KBE.

History of Strikes, Lock-Outs & General Strikes

British General Strike 80th Anniversary
To commemorate the 80th anniversary of the British General Strike and miners' lock-out, the Society for the Study of Labour History and Historical Studies in Industrial Relations organize a conference on The History of Strikes, Lock-Outs and General Strikes at Keele University on May 6, 2006.

Economic Institutions Under the Many Forms of Capitalism

The Economic History Research Area of the European Association of Evolutionary Political Economy, and the Economic Policy Laboratory organize a joint colloquium, "The variety of economic institutions under the many forms of capitalism" on May 12-13, 2006 at Athens University of Economics and Business, Greece.

Keynesian Policies on Welfare- Past and Present

Seventy years after J. M. Keynes's General Theory was published, the Italian Association for the History of Political Economy (STOREP) devotes its III National Conference in Lecce, Italy from June 1 to 3, 2006 to discussion of the characteristics and applications of Keynesian policies and to the dialogue between economists and historians.

Histories of the 8 Hour Day and Working Life-Working to Live

On June 20 & 21, 2006 Histories of the 8 Hour Day and Working Life, a joint initiative of the Australian Society for the Study of Labour History and the Australian Centre at the University of Melbourne, commemorates the 150th anniversary of the 8 Hour System established by the Melbourne Stonemasons.
Eighth International Workshop on Institutional Economics

"Human Needs and Markets: New Foundations for Health and Social Policy"
Organised by the Centre for Research in Institutional Economics, University of Hertfordshire, UK

The subsided/reduced rate is only 100 GBP including accommodation and meals. Those wishing to apply for low-income rates should send a letter or email to Geoff Hodgson (g.m.hodgson@herts.ac.uk – mailing address below). You should explain your financial circumstances and confirm that there is no possibility of adequate financial support from your own institution. This information will be treated in the strictest confidence.

Speakers:

Stephen Dunn (Department of Health), Barbara Harriss-White (University of Oxford), Colin Haslam (University of Hertfordshire), Geoffrey Hodgson (University of Hertfordshire), Robert McMaster (University of Aberdeen).

19-20 June 2006

This residential workshop will be held on the De Havilland campus of the University of Hertfordshire, in Hatfield, England.

This workshop is designed to provide in-depth discussion of cutting-edge issues in institutional economics, in a forum that permits the attention to detail and definition that is often lacking in larger, conference-style events. The expected maximum number of participants is 50. Please book early to avoid disappointment.

The De Havilland Campus of the University of Hertfordshire is about one mile from Hatfield railway station. There are regular trains from Hatfield to London Kings Cross, taking about 20 minutes. There is easy access to all London airports.

Geoff Hodgson
Research Professor
The Business School, University of Hertfordshire, De Havilland Campus, Hatfield, Hertfordshire AL10 9AB, UK
For detailed information: workshop.doc
Job Postings for Heterodox Economists
Brighton Business School

Two appointments: Professor of Strategic Management and Professor in Human Resources Management
For detailed information: MB3016.pdf
Heterodox Journals and Newsletters
Review of Political Economy

Individual members of the following societies can subscribe to Review of Political Economy at the special rate of Ł34/US$56:

Association for Evolutionary Economics
Association for Heterodox Economics
Eastern Economic Association
European Association for Evolutionary Political Economy
European Society for the History of Economic Thought
History of Economics Society
International Association for Feminist Economics
Union for Radical Political Economics

Volume 18, 4 issues per year, 2006
Print ISSN 0953-8259
Online ISSN 1465-3982

To subscribe visit www.tandf.co.uk/journals/offer/crpe-so.asp
European Journal of the History of Economic Thought

Volume 13 Number 1/March 2006 of European Journal of the History of Economic Thought is now available on the journalsonline.tandf.co.uk web site at http://journalsonline.tandf.co.uk

- An 'exception culturelle'? French sensationist political economy and the shaping of public economics *
Gilbert Faccarello
- Subjectivism, joint consumption and the state: Public goods in Staatswirtschaftslehre*
Richard Sturn
- The Italian approach to the theory of public goods *
Domenicantonio Fausto
- Morally ruled behaviour: The neglected contribution of Scholasticism *
Oscar De-Juan and Fabio Monsalve
- Money, interest and capital accumulationin Karl Marx's economics: a monetary interpretation and some similaritiesto post-Keynesian approaches *
Eckhard Hein
- The Kaldor/Knight controversy: Is capital a distinct and quantifiable factor of production?
Avi J. Cohen
- Book reviews
Economic Sociology - the European Electronic Newsletter
Current Issue: Vol. 7, No. 2 - February 2006

In this issue you will find a coda to the previous special issue on historical perspectives. Bruce Carruthers gives a plethora of reasons why economic sociology should take history seriously. The simple answer? 'Because it matters.'

Edward Nik-Khah provides a critique of Michel Callon's performativity thesis (see volume 6, no. 2 of this newsletter). Callon's and Donald MacKenzie's classical example of performativity are the spectrum auctions of the American Federal Communications Commission, where game theory allegedly was constitutive, not merely descriptive, of the auctions' design. On the basis of a detailed empirical account, however, Nik-Khah disputes the performativity thesis.

Niall Bond explains how Joseph Schumpeter was key in classifying Max Weber as a sociologist rather than an economist. In particular, while Weber redefined the limits of the discipline of economics through the merging of the "social" and the "economic" in his notion of Sozialökonomik (social economics), Schumpeter rejected Weber's project in hostile terms.

In the interview series Frank Trentmann, director of the Cultures of Consumption research programme of the British Economic and Social Research Council (ESRC), answers ten questions about consumption. Fabian Muniesa of Ecole des Mines (Paris) recommends readers recent literature in economic sociology. As usual, you will find job announcements and calls for papers in the back of this issue.

Olav Velthuis
velthuis@dds.nl

Links:
economic sociology - the european website: http://econsoc.mpifg.de
economic sociology - the european electronic newsletter: http://econsoc.mpifg.de/newsletter/newsletter_current.asp

The Talking Economics Bulletin

1) Associative Economics Monthly March 06, Editorial
2) Event Details
3) Whither Fair Trade?

1) From Associative Economics Monthly March 06, Editorial

"In the social organism 'money as such' does not exist; there are only the three kinds of money." So states Rudolf Steiner in his lectures on economics. In this issue what such a statement might mean and how it is pertinent to today's global financial predicament is examined by way of three interpretations of Steiner's thinking about money, along with extracts from the lectures themselves. John Bloom, in 'Money's Inner Landscape'
suggests how Steiner's ideas can inform one's own financial behaviour in discerning the different strata of meaning within monetary phenomena.
Christopher Houghton Budd considers how the idea of 'differentiated money' enables one to make sense of today's financial system, a system that is becoming increasingly unstable. Bernard Jarman documents a currency scheme in Germany, 'The Chiemgauer Project', that seeks at the local or regional level to enable ordinary men and women to recognise, and participate in, a process of transforming today's monetary arrangements.

The Rare Albion column 'Money and Capital' encourages us to see the way in which trade and finance, by being understood in a distinct and thoroughgoing manner, allow one to realise that the monetary world is nothing other than the skin of human relationships in their deepest sense. The Signs of the Times column asks what is to be made of the Federal Reserve's decision to stop publishing the M3 monetary aggregate at a time of increasing concern about the burgeoning level of US debt and ability of the dollar to maintain its role as a reserve currency.

In 'CSA Plus! New Ground for Farming Economics', Douglas Wylie reports on a recent Toronto conference that explored how agriculture might be treated in an associative economy. D'Arcy Mackenzie uses Accountants Corner to distinguish what is meant by a gift in the ordinary sense from Rudolf Steiner's concept of 'gift money' when understood as the conversion of loan money into purchase money.

2) Events

IN LONDON, UK:

8 April, 2006 - Associative Economics and Rudolf Steiner's Thinking A presentation in association with The Network Project, at the London School of Economics, England.
contact: Rosamund Stock, restock@cooptel.net

10 Mar, 28 Apr, 19 May, 9 Jun 2006
The Metamorphosis of Capitalism - An introductory course in associative economics. Fridays, 2 - 5 pm, booking only (Venue below)
3x3x3 - An opportunity to study Rudolf Steiner's Economics Course (Come occasionally or sign for the whole course) Fridays, 7.15 - 9.15 pm (Venue
below)
Rudolf Steiner House, 35 Park Road, NW1 6XT London

IN STROUD, UK:
Talking Economics Evenings - Star Anise Arts Café, Stroud, UK , Mondays 7-9pm Whither Fair Trade? - 6 Mar
The Trial of Taxation. - 3 Apr
Time for a World Currency? - 8 May
Ethics with Everything - 5 Jun
For details of above events: info@talkingeconomics.com 01452 810764

IN HOLLAND AND NORWAY:
The Colours of Money - An introduction to associative economics Netherlands, 21 - 23 April, 2006 Oslo, 16 - 18 June, 2006 Details from: mail@cfae.biz

IN DORNACH, SWITZERLAND:
Events at the Goetheanum, Dornach, Basel, Switzerland, January - June 2006:
Lectures: Thursdays: 8.00-9.30pm, Goetheanum Too much loan money... Understanding the financial markets - 16 March Ethical financialism: Modern finance as a mirror of ourselves - 11 May Rudolf Steiner's True Price: The key to transforming modern economic life - 1 June Beyond competition: The prospects for associative economics today - 29 June

Workshops: Fridays: 9.00-12.00 am, Conference Room, Youth Section House 24th February, 17th March,12th May, 2nd June, 30th June 2006 For further details contact: Email: economics@goetheanum.org / Tel: Christopher Houghton Budd (0044 1227 738207) / Jesse Osmer 061 706 4391


3) Whither Fair Trade?

In an age of competitive marketing for brand value, what does it mean to say that one represents fairness? Now that Fairtrade products are widely available, the spotlight is falling increasingly on what lies behind these new brands. It is not just their trading practices that are examined, but also the conceptual integrity of what they promote. For example, if a number of new 'fairly traded' brands appear, what other than the market and competitive pricing will they base themselves on? Can each maintain its own version of fairness without reference to the others or will they eventually come round full circle to a competitive 'beauty contest' to decide who is the fairest of them all? To be able to say what one means by 'fair' is, of course, crucial, taking account of the inherent dynamics of true economic relationships in a way that is rigorous enough to lay down in criteria, but avoiding anything bureaucratically conceived or outwardly imposed. In the words of Michael Wilson from The Golden Blade 1978: "The ability to decide wisely is an art, not a system, and can be developed only from man to man, and from moment to moment. But if a group of people, however small, succeed in developing it, they will have enormous coherence as a unit. Our concept of 'fair' will deepen immeasurably with the penetration of our insight and the widening of our responsibility."

The next Talking Economics evening, on Monday 6th March at the Star Anise Arts Cafe, Stroud, provides an opportunity to look a little deeper at how fair trade is to be understood.

Formal presentation is kept to a minimum such that the discussion is participant driven and question led.

Cost Ł3.50 / Venue Star Anise Arts Café, Stroud, UK - Enquiries Arthur Edwards 01452 810764
--
'Associative Economics Monthly', is available at www.cfae.biz/publications

The associative approach to economics is based on the idea that economic life is the shared responsibility of every human being. Talking Economics is about making this responsibility conscious and finding ways to give it effect. www.talkingeconomics.com-- www.talkingeconomics.co.uk

The Centre for Associative Economics, Forge House, The Green, Chartham, Canterbury, CT4 7JW, 01227 738207
Heterodox Books and Book Series
Colander's Economics

An economics textbook that addresses various perspectives...
Most heterodox economists believe that no major principles of economics textbook treats heterodox economics fairly. That's probably true. But at least one tries. Colander's Economics is the only consciously pluralistic major text around. It presents the mainstream material, but it does not present that material as the "truth" as most books do. Instead, it offers different perspectives, which allows heterodox economists to present their views in class and to set up a dialog with students.
Colander's sixth edition of Economics ( http://www.mhhe.com/economics/colander6 ) contains "Questions from Alternative Perspectives" at the end of each chapter, to emphasize the fact that there are many different views of economics. These questions include material from the Austrian, Institutionalist, Radical, Feminist, Religious, and Post-Keynesian perspectives. An example is given here.
Questions from Alternative Perspectives for Chapter 16, Work and the Labor Markets.
1. How might the minimum wage lead to greater racial and gender discrimination in the labor market? (Austrian)
2. In his book Forbidden Grounds, University of Chicago Professor Richard Epstein argues that federal employment antidiscrimination laws ought to be abolished. [Hint. Reading Westmont College economist Edd Noell's paper "Racial Discrimination, Police Power and the 1964 Civil Rights Act in Richard Epstein's Forbidden Grounds: An Evaluation of The Case Against Discrimination Laws" (available on the web at ACE, www.gordon.edu/ace ) will be helpful in answering this question.] a. How might a Christian economist evaluate the need for federal laws prohibiting racial discrimination? b. Why should a Christian economist think more carefully than another economist about the relation between economic liberty and tolerance of the taste for discrimination? (Religious)
3. Gloria Steinem pointed out the following: "I've yet to be on any campus where women weren't worried about some aspect of combining marriage, children, and a career. I've yet to find one where many men were worrying about the same thing." a. What does this insight suggest about the working of the labor market in the United States? b. Does this male bias in the labor market affect the efficiency of the economy? (Feminist)
4. Table 16-1 in the text provides data about starting salaries for selected professional degrees; in it you can see that Ph.D. Economists are paid less than MBAs. If economists are rational, why are they economists? (Institutionalist)
5. Radical economists argue that labor markets are governed by non-market forces such as discrimination as well as by the supply and demand for labor. As they see it, poverty and inequality are not aberrations but systematic labor market outcomes. They also believe that unions are much-needed equalizers that help low-wage workers. a. How does the radical view of the workings of labor markets and role of unions differ from that presented in your textbook? b. In your opinion, how fairly do labor markets operate? c. Do labor market outcomes need redress through collective action? (Radical)
To find out more about Colander's textbook including some samples of other Alternative Perspective Questions go to www.mhhe.com/economics/colander6 or contact your local McGraw-Hill Sales Representative (www.mhhe.com).
Alan Greenspan: The Oracle Behind the Curtain

World Scientific and Imperial College Press is pleased to announce the publication of a new book by Professor E Ray Canterbery entitled Alan Greenspan: The Oracle Behind the Curtain. The author has recommended us to introduce this book to you for a possible textbook adoption.

In this highly thought-provoking title, Professor Canterbury goes against the wave of applause for Alan Greenspan and the Fed to oppose Greenspan's fundamentalist market ideology as overwhelming rationality in the making of economic policy. For more information, please visit http://www.worldscibooks.com/economics/5987.html .

If you wish to adopt this as a textbook and would like to receive an inspection copy for review, please email us at sales@wspc.com. Please note that the distribution of inspection copies is subject to availability and the following conditions:

1. Inspection copies are available on a 28-day basis (from date of invoice).
2. If book is adopted as a course text, the bulk quantity order must be 5 copies or more.
3. If book is not chosen for adoption, you may either return it in good saleable condition or purchase it at 30% discount.

For more information, please go to http://www.worldscibooks.com/custserv/textbook_inspect.shtml .

Top
Heterodox Graduate Program and PhD Scholarships
New MA at Tallinn University of Technology

http://hum.ttu.ee/tg/

We attempt to bring together traditional Continental European economics, "State Science", with evolutionary and post-Keynesian economics. We add two subjects rarely found in economics: the Theory of Uneven Development and the History of Economic Policy.
Annual Student Contest for Canadian Students around the World and For Students in Canada

PROGRESSIVE ECONOMICS FORUM ANNUAL STUDENT ESSAY CONTEST
Prizes will be awarded to an essay of 20-40 pages double-spaced (5,000-10,000 words) on any subject related to the theory or policy of economics or political-economy, which best reflects a critical approach to the functioning, efficiency, and social and environmental consequences of unconstrained markets.
Deadline For Applications: May 1, 2006
For detailed information: pef_contest.pdf
Heterodox Economics Archive Material
Real-World Economics Teach-In March 20, 1996, University of Victoria, Canada

Prior to "The Student Petition of Autisme-Economie" (2000), the "Opening Up Economics: A Proposal by Cambridge Students" (2001), the "Kansas City Proposal" (2001), "The Harvard Students' Manifesto" (2003), and other recent student proposals (see http://www.paecon.net for the above proposals), there was an uprising among students in 1996 at the University of Victoria. The link includes a brief introduction to the teach-in by Tom Green and then documents explaining the reason for it.
For detailed information: Archive1-reform at UVic 1966.doc
2006 Workers' Rights

Here's the link to our Spring semester 2006 Workers' Rights teach-ins power point presentation:

http://www.aflcio.org/joinaunion/voiceatwork/upload/teachins_d10.ppt
http://www.aflcio.org/joinaunion/upload/teachin_toolkit.pdf
Please help us spread the word among interested economists. I'd also appreciate hearing whether & how people make use of the power point presentation--and would welcome feedback on its content.

Many thanks.

Sheldon Friedman
Research Coordinator, Voice@Work Campaign AFL-CIO
815 Sixteenth Street NW
Washington, DC 20006
202-637-5310
sfriedma@aflcio.org
Metaphysics of McCarthyism

Juice Is Stranger Than Friction
By Jacob McKean

February 16, 2006

Academic freedom" and "intellectual diversity" are the two primary buzz-phrases of the right-wing movement to remake academia in its own image. This struggle has played out pretty dramatically at Columbia, with most of the major manifestations of the movement having made appearances on campus. We've had the effort to intellectually cleanse the MEALAC department of professors critical of Zionism, the continuous right-wing mudslinging directed at a few outspoken professors, and the occasional militaristic attempt to silence war critics. But most departments have escaped such scrutiny.

One can't help but conclude that the promoters of "academic freedom" and "intellectual diversity" have been a tad disingenuous. A quick investigation shows just how selective these charlatans are.

Warning: what follows may shock and upset sensitive readers. There is an entire department at Columbia so ideologically monolithic that its students are not even aware that dissenting viewpoints exist. Worse yet, this academic monoculture extends into other related departments and classes, producing an academic environment so stifling and intimidating that no one I spoke to would go on the record for fear of retribution. The department? Economics.

As a history major, I have no experience with econ classes and certainly none with science. So rather than jump to conclusions based on my study of course curriculums, class Web sites, and casual observation, I decided to interview actual economics majors and other students in related departments, like industrial engineering and operations research. I spoke to many students, but I heard similar things from all of them. I've included their most representative comments here.

So, does the economics department offer its students an intellectually diverse education? "There is no diversity of perspective in the ... department. We don't talk about different schools of economic thought. I don't even know what they're called or what other ideas of economics would be. The professor mentioned that there were different schools of thought once in Principles of Economics [an introductory course], but we weren't tested on it."

There are never any dissenting opinions presented? "Every econ class is taught from the same perspective, but I couldn't even tell you what that perspective is because I don't know what else there might be. It's not critical at all."

So what is the model that these dogmatists are pushing? "We only have one model. There's a firm that owns a company and there are employees that work for it. We've never used any other kind of production model." Imagine if a Middle Eastern history class were taught this way. Do you think I'd be the only the one who would care about this?

It seems reasonable to expect professors to at least allow students to openly discuss and question their view. But does that happen in economics? "There's no discussion of whether the models we're studying are right or wrong, or if there are different models, or even if they apply to the economy."

And do professors explain their point of view or try to justify their ideology? "We've never discussed the implications of the assumptions we make in econ. Most of the time the professors don't even mention what the assumptions are."

What about the practical implications of this ideology—are they ever mentioned? "No one would ever ask a question like, 'Why is unemployment natural?' There's just no discussion of anything like that."

Some classes do talk about things like unemployment, however. Here's an exchange I had with a student in industrial engineering and operations research:

"One time we made a 'termination curve' to figure out how many jobs you'd have to cut to make a business run optimally."

"Have you ever discussed how to save jobs?"

"Uh, no."

"Have you ever made an 'executive compensation curve' to figure out how to optimize profits by reducing executive compensation?"

"(Laughs) Definitely not."

The domination of these departments by a single ideology has naturally led to uniformity on other levels as well. Every single student I talked to in economics and industrial engineering reported that their department is entirely geared towards putting them in financial services occupations. They reported a complete lack of resources for students interested in other types of work and a constant reinforcement of the assumption that they would all become investment bankers.

Many students said they would prefer a more diverse curriculum but that it was unavailable to them. Those who found all of this rather troubling reported an intimidating and isolating environment for dissenting viewpoints of any kind.

With this in mind, and really it's all rather obvious, I am left to wonder where all those shrill advocates of "academic freedom" and "intellectual diversity" have gone. Could it be, just maybe, that they don't object to the ideological uniformity of the economics department because it happens to mirror their own right-wing politics? I can only conclude that they were completely self-serving to begin with, nothing but grandstanders promoting a reactionary political agenda. But I will give them a chance. I patiently await their campaign to overhaul the economics department.

Jacob McKean is a Columbia College senior majoring in history and African-American studies. Juice is Stranger Than Friction runs alternate Thursdays.
http://www.columbiaspectator.com/vnews/display.v/ART/2006/02/16/43f41fa11b3e4?in_archive=1